FAQ
Q:  When am I able to order lunch from Venus Catering?
A:  We are closed for online orders on Sundays and Mondays. Order online by 12:30PM for the same day pick up. Orders must be picked up by 2PM.
Q:  Does Venus Catering offer vegan options?
A:  Our Garden Salad is a refreshing way to go. We are working on other delicious vegan menu options to be available in the future.
Q: Does Venus Catering offer gluten free options?
A: Our kitchen is not a Gluten Free facility. All our salads are gluten free until adding croutons or having the roll that is included with the salad.
Q:  Can I have my order delivered to me?
A:  Pick up only. Lunches need to be picked up at 212 W Main St, Suite #3, Belgrade, MT 59714, next to the Washing Well laundromat & Off the Cuff Cleaners.
Q: How do contact Venus Catering for catering a luncheon for a group or any other event?
A:  Email info@catervenus.com with details such as DATE, GROUP SIZE, and LOCATION or call Laurie at (406) 580-6906 or Seth at (406) 589-7117.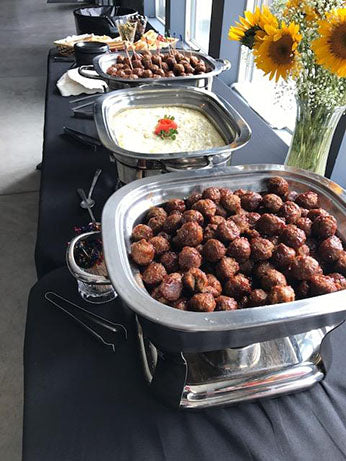 Dazzling Appetizers
Gourmet Cheese Board
Meatballs
Chicken Drummies
Mini Eggrolls
Fruit Kabobs
Antipasta Plater
Fiesta Shrimp Kebobs
Stuffed Baby Red Potatoes
Spinach Dip with Crudites
Artichoke Dip
Wonton Cups
Baked Brie
Contact Us